We independently research, test, review, and recommend the best products. If you buy something through our links, we may earn a commission. See our full disclosures here.
Since the debut of the first Harry Potter book in 1997, the series has captured the hearts and imaginations of millions of people around the world. With its compelling storylines, intricate world-building, and unforgettable characters, the series has become a cultural phenomenon that shows no signs of fading away. It's no surprise, then, that many fans have taken their love of Harry Potter beyond the pages of the books and the screens of the films and into their own homes, creating magical spaces filled with Harry Potter-themed décor.
Harry Potter-themed décor is perfect for all ages, whether you are an adult Potterhead decorating your own magical sanctuary or a muggle parent trying to encourage your creative little wizard. From posters and wall art to bedding and furniture, there are countless ways to incorporate Harry Potter-themed elements into your home décor. These themed decorations not only add a touch of whimsy and personality to your living space, but they can also serve as a reminder of the powerful messages of the series, such as the importance of courage, love, and friendship. So, grab your wand, hop on your broomstick, and get ready to cast a transfiguration charm on your room to turn it into your very own magical wizarding world!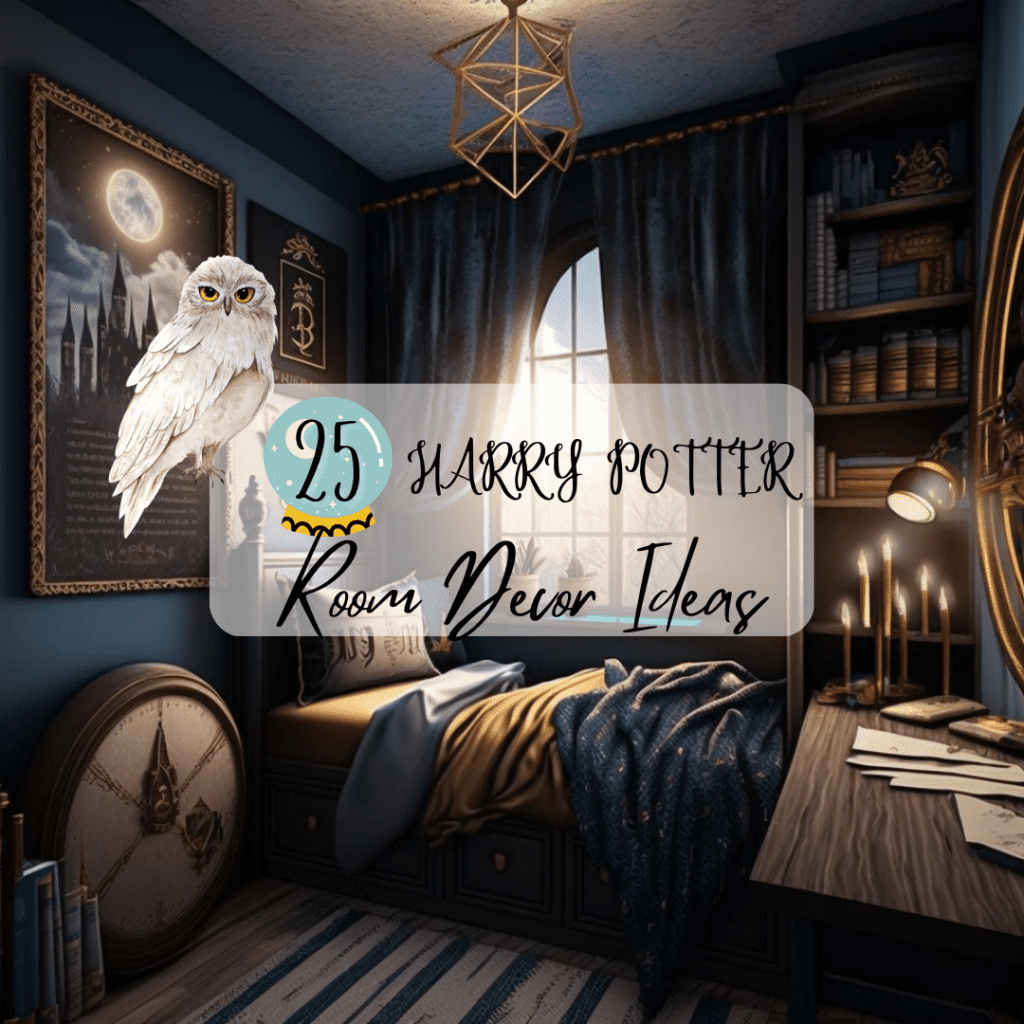 Cushions offer comfort and a splash of personality to any space. When searching for pillows to fit your Harry Potter room, these offer a fun pop of color while staying true to the theme. You can have all four cushions out or pick one or two then cycle through the rest as you want. You can even change the theme of your room to match each book or movie, start with the sorting hat cushion for the Sorcerer's Stone, then switch to the Triwizard Cup for a Goblet of Fire, all the way to the Deathly Hallows symbol for the last installments.
2. Transfiguration, Time-Turners, and Trunks!
After receiving your acceptance letter to Hogwarts you need to pack your trunks and rush to platform 9 ¾ to catch the Hogwarts Express! This set of decorative trunks is perfect for creating a more realistic bedroom design as if you are truly a character in the movie, not merely a fan. A set of trunks like this is also ideal for storing out-of-season clothes, toys, and blankets. This is a perfect way for any muggle to get a taste of some wizarding world décor without making it too obvious initially.
3. "You Can't Cancel Quidditch!"
Whether you are a chaser, keeper, beater, or seeker at heart, to play quidditch you need a broom. All quidditch players in the wizarding world own a broom that they keep in cases or on display in their rooms. The Besom Broom is the perfect room addition for a Harry Potter fan who wants to once again create that more immersive feel with realistic items other wizards would own, not merely display merchandise. So get your broom and display it for all to see.
After training hard to become a seeker, actually catching the elusive golden snitch is an incredible feat. Show off your own golden snitch in your room, displayed in a clear cloche with a black base that illuminates the snitch from below making it look even more enchanting.
5. The Harrowing Final Challenge
This is a functional and fun miniature version of the chess game played by Hermione, Ron, and Harry at the end of the sorcerer's stone. The beautifully sculpted cast resin pieces of the Harry Potter Wizard Chess Set can be left out as interactive décor or kept tucked away safely with the two provided drawstring pouches.  It is the perfect ode to the first movie of the series while still being a fun and highly intelligent game to enjoy when friends and family visit.
6. Illuminating Your Bedroom with Magic
One of the largest and most enchanting rooms at Hogwarts is the Great Hall; the room not only hosts all meals and the yearly Sorting Hat ceremony, but it even is where we were introduced to the students from Durmstrang and Beauxbatons during the Triwizard Tournament. The hall is illuminated by thousands of floating candles giving the room a soft warm glow. You can easily recreate this vibe with these floating candles that you hang with invisible strings to create a cozy magical ambiance in your room. Try hanging them over your dining room table or even a bedroom desk for your own magical illumination.
Why not be wrapped up in sheets with broomsticks and golden snitch motifs while dreaming of being the best seeker Hogwarts has ever seen? These sheets are the perfect addition to any wizard's dormitory. Along with the golden snitch and broomsticks, the minimalistic pattern also features Harry's owl Hedwig, the sorting hat, an acceptance letter, and candles.
We all still dream of getting our acceptance letter to Hogwarts, and though maybe some of us are a little too old to receive our acceptance letters we can still replicate some of that magic with these floating acceptance letter banners. Once strung up, these banners create the look of postage letters flying into your house whenever you want, even on Sundays no matter what Mr. Dursley tries to say.
9. Brewing Butterbeer and Bertie Botts Beans
This adorable ceramic mug is perfect for a Harry Potter fan that also loves tea, coffee, or everyone's favorite Harry Potter beverage – butterbeer! The cauldron mug is ceramic and also dishwasher safe, making the clean-up magically easy. This piece is versatile, you can use it as a functional mug or you can use the cauldron as a display piece in your Harry Potter room by stacking it on top of your potion books, or filling it with your secret stash of candy from Weasleys' Wizard Wheezes!
10. Creating the Immersion
If you have spent time creating an incredible Harry Potter room then creating an exciting divide between your sanctuary and the muggle world is important. You can use these brick wall curtains on your door so it is as if you are passing through the wall at platform 9 ¾ every time you enter your wizarding world oasis.
11. Terrific Time Tellers
While reading your favorite J.K. Rowling novel, time might pass before you know it, this wizarding school vinyl cut record clock is perfect for keeping track of time while staying immersed in the Harry Potter world you are reading. It is a battery-powered clock made from a 12-inch vinyl record, it has intricate details and the seller has a few different options to choose from so you can pick the time teller that is perfect for your enchanting space.
12. Signs of Magical Enchantments
It would be big trouble for a muggle to accidentally stumble into the wizarding world, this sign is the perfect way to keep them out. The sign could either be hung in your room to enhance the space or on your door as a warning. If you are a renter, don't fret! This sign is lightweight enough to be easily hung with adhesive strips that can be easily removed without any damage.
Curling up under this soft jersey duvet might leave you convinced someone slipped you a dose of the Draught of Living Death into your pumpkin juice with how easily you will be whisked away to a land of dreams. The organic heathered cotton jersey martial is soft just like your favorite old worn t-shirt yet incredibly breathable is also embellished with the Hogwarts crest. If you want to go all out style this duvet with the sheet set above for a fully decked-out Harry Potter bed!
If you are sick of constantly having to whip your wand and recite the spell "Lumos" to illuminate your room during those late nights trying to figure out the Triwizard riddles, this lamp is perfect for you. It has a matte black painted frame and a warm white neon strip LED tubing for the letters. Hang up this sign above your potions desk or your bed to create a cozy ambiance.
Whether you are decorating your room or are gearing up to welcome a new wizard to the family, this peel-and-stick wallpaper can look gorgeous in any room. The wallpaper pattern features all sorts of Harry Potter motifs, from owls to flying keys to potions and frogs! It is incredibly durable, doesn't require any extra glue, and is removable if your tastes change. I swear it must be magic!
Maybe you aren't ready for an entire wall or love your current paint color. Don't worry, you can still create magical walls with these Harry Potter wall decals. The set comes with a sheet of 19 different removable wall decals including a large pair of gold glasses, a golden owl carrying an envelope, a large glowing wand, and other smaller themed motifs perfect for any young wizard's room.
17. "Don't Count Your Owls Before They Have Delivered!"
Every new wizard gets to pick a pet, whether that be a cat, toad, or owl. Owls are obviously the crowd favorite, not only being fiercely loyal but helpful when sending and receiving letters. Hedwig was a spectacular owl and now you can have an owl of your own with this replica plush. This owl will make the perfect companion for any young wizard with incredibly soft designer materials,  airbrushed accents, and high-quality polyester fiber filling to ensure a long life of delivering letters and cuddles.
18. Leaving the Muggle World
Once your wizarding room is tricked up with wands, potions, and brooms you need to ensure fellow wizards know where to enter the Wizarding World. This 3D-printed Hogwarts Express Platform 9 ¾ sign is the perfect unique piece of wall décor to hang outside of your magical room to attract the right guests and deter confused muggles.
19. "After all this time? Always."
The Deathly Hallows was a grueling yet beautiful conclusion to our favorite series. This lamp features the symbol of the hallows with the triangle to represent the invisibility cloak, the circle for the resurrection stone, and the line for the elder wand. This lamp will help illuminate your room for those late-night reading sessions and movie binges. No matter the use, this lamp is sleek and modern while still being a gorgeous addition to your Harry Potter-themed room.
20. I Solemnly Swear I am Up to No Good.
Messrs Moony, Wormtail, Padfoot, and Prongs, Purveyors of Aids to the Magical Mischief-Makers are proud to present The Marauder's Map! The Marauder's Map was an essential part of the antics of our favorite young wizards, Harry, Ron, and Hermione, this makes having a poster replica in your room a perfect and tasteful ode to the three wizards, and a wonderful addition to your memorabilia. You can either tack it up as any poster or frame it for a more elevated aesthetic.
21. Cozy, Cuddly, and Charming
Though it might not be as playful and cozy as Molly Weasley's knitted sweaters, it is just as soft and warm. This blanket is machine washable and 100% polyester, and with the embellished Hogwarts crest, it will make any Harry Potter fan, regardless of if they are a Hufflepuff or a Slytherin, ecstatic.
22. An Undetectable Extension Charm
How many times have we watched or read Harry Potter and been envious of Granger's little purple beaded bag enchanted with an extension charm to fit everything away in a small purse? These bins, though not enchanted, offer so much space for toys, clothes, and anything else that you might just be convinced they are charmed. These bins are embellished with the Hogwarts crest and the durable handles and ability to fold down when not being used make them fantastically functional.
23. Dreaming of Divination and Dragons
This warm quilt is perfect for any young wizard to keep them cozy and warm as they dream up magical stories and mystical adventures. It provides just the right amount of warmth for cuddles year around and its care is magically simple, being machine washable and dryable.
24. Pinning Parchment Papers
While studying to become the greatest Auror, Curse-breaker, or Wandmaker the Wizarding World has ever seen, you are bound to study lots and revise your work. This chic brass pinboard features the Hogwarts crest and a durable EVA-filled, linen-covered pining board perfect for pinning up potion recipes or transfiguration notes.
25. Fantastical Fairy Lights
Though fairies in the Wizarding World tend to be mischievous and malevolent, these golden snitch lights are anything but that. Made with tin, LED bulbs, and a built-in timer, these are the perfect way to illuminate a quidditch lovers' room! The thin silver wires blend into almost any wall making the snitches truly look like they are flying and ready to be caught.
Creating a Magical Space With Harry Potter Décor
Ultimately, creating a Harry Potter-themed room can be a fun and exciting way to show off your admiration for the beloved series. With the right décor, you can transform any space into a magical and enchanting world that is sure to impress any Harry Potter fan. Whether you choose to go all out with full-on Hogwarts decorations or keep it simple with a few subtle nods to the series, there are plenty of options available to help you bring your vision to life.
In the end, the key to creating the perfect Harry Potter room is to let your imagination run wild and have fun with it. Whether you are a die-hard Potterhead, just looking to add a little bit of magic to your home, or a confused Muggle parent, a Harry Potter-themed room is sure to provide endless hours of enjoyment and wonder. So go ahead and have fun, try new things, and remember there is a little magic inside us all.